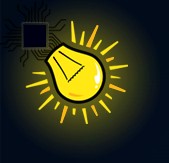 This is a small light bulb for your desktop. I searched the internet to change desktop lights easily. But no luck. So I just made my first skin on rainmeter.
Link -
https://www.deviantart.com/vasigaranvip/art/Desktop-Light-Bulb-0-8-896857816
What this can do?
Simply this skin changes windows theme mode (Dark or Light)
Click on the light bulb for toggle theme mode to light or dark.
Click on that chip to open switches to turn on or off App theme and System theme separately.
Right-click on the chip to open the settings. you can customize color from settings.
In the settings box, you can see a timer. Turn on the Sun or Moon by clicking on it to turn on the timer. Then under the icons, there are some numbers(time). Change that time by scrolling the mouse wheel or clicking on it.
You can see there is a button middle of the Sun and Moon. Click on it to turn it on or off. If it's off, the timer turns on or off the lights at the correct time only. If it's on, the timer will work a bit differently. The light will be turned on after light time and before dark time. and the light will be turned off after dark time and before light time.
Looking for suggestions to make this better...