Good Day All,
I have been a Rainmeter user for a few months now and I absolutely love the program. Until recently I had been using the Enigma Notes skin to keep track of my weekly errands and assignments, however I desired something a bit more. Through the power of Lua that came with the recent release of Rainmeter 2.0 I was able to make myself a handy little planner to keep track of upcoming events.
Line Planner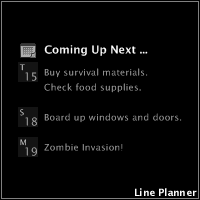 Description and Instructions
Having been originally based within the Notes skin, Line Planner draws from the simplistic style to show what events are coming up next. Events can be added through an easy to understand in-skin option that can be accessed by clicking the Calendar icon in the top left corner of the skin. Events can be placed in any order, regardless of date, and will be displayed top down from today into the near future. Events are displayed next to their respective calendar and weekday date, with events occurring on the same day grouped together in an organized and clean manner. Events happening on the current day will have a slightly brighter box and a different colored text. Once an event has passed it will simply be ignored.
Available From
:
DeviantArt
Customize.org
Also Attached Below
Some Fine Print
The calendar, back, and delete icon are loosely modified versions of
Fatcow "Farm Fresh Icons."
Certain scripts and functions provided by Rosetta Code. RainRGB developed by jsmorley. All other work is original. Feel free to tweak and edit the skin to your liking, adding in whatever features you feel are lacking. The Lua file is also quite well commented for easy exploration and modification. This skin's license is the standard Creative Commons BY-NC-SA 3.0 variant.
The skin and Lua file were also designed with possible future updates in mind. I can't guarantee there will be any future additions, but if one comes along the way the skin should be able to handle it graciously.
Known Issues
All resolved.
Change Log
Version 2.1
, January 10
Updated lua script to remove deprecated features
Updated lua script to fix bug in styles appearing where there should be none
Version 2.0
, January 10
Added in-skin ability to add and remove events
Added in-skin ability to add and remove styles
Updated custom colors and font size editor
Removed unused tool tip help
Version 1.2
, June 12
Attachment Removed. Sorry, but support has been dropped. If you'd like this version, feel free to contact the developer.
Added in-skin ability to set custom colors and font sizes for Calendar elements
Added in-skin ability to change calendar title and "Nothing Scheduled" text
With these additions, included additional skins and in-line tool tip help to guide user
Version 1.1-1
, March 26
Attachment Removed. Sorry, but support has been dropped. If you'd like this version, feel free to contact the developer.
Patch to an error that occurred when blanks lines were in the Calendar file.
Improved "valid Calendar entry" detection when getting dates from Calendar file.
Version 1.1
, March 25
Attachment Removed. Patch issued above resolving issues present in this version.
Features user-defined styles for events.
Message displayed when no events in list.
Version 1.0
, March 10
Initial release. Fully functional planner.
May not work on newer Rainmeter versions.