Thanks to a request on DeviantArt, I present to you ScrollNotes.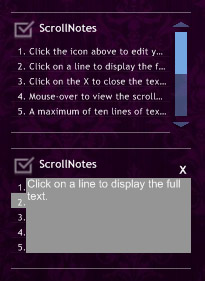 DeviantArt Download
It's a Notes reader capable of scrolling through a maximum of ten lines of text.
If you want to view the full text of a line, simple click on it to show the text viewer. Click on the "X" to close the text viewer. To show the scrollbar, just mouse-over the skin. And, as usual, click on the icon in the upper left to open the notes file.