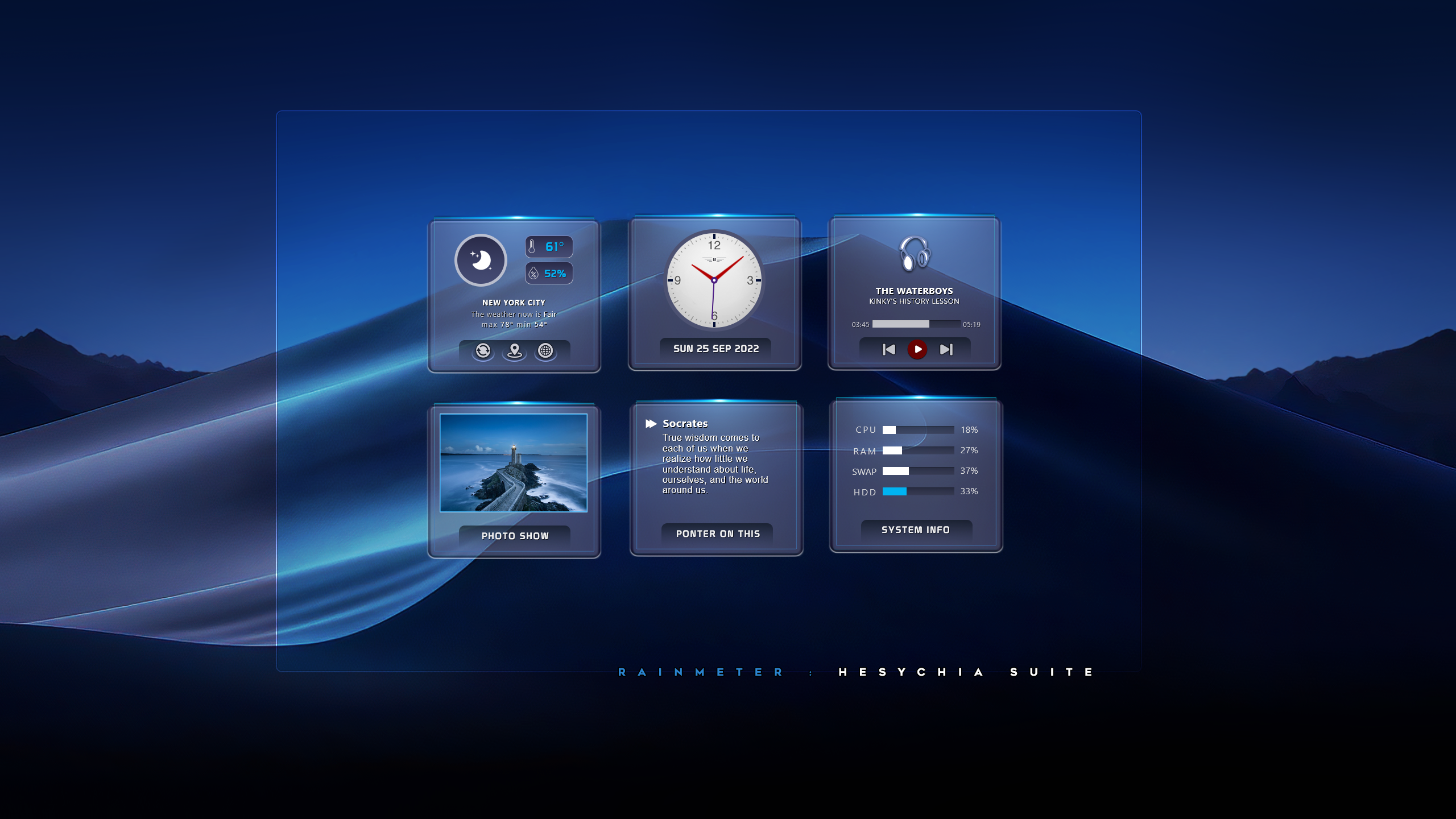 In Greek mythology
HESYCHIA
(ΗΣΥΧΙΑ) was the personified spirit of quiet, rest, silence and stillness. Her Roman equivalents were Quies (Quiet) and Silentia (Silence).
This Rainmeter Suite includes
6 skins
:
-A
Weather skin
, a
Time and Date
skin, a
Music Player-Info
skin, a
Photo Show
skin, a
Quotes
skin, a
System Info
skin and the
Wallpaper
.
-The Weather needs configuration for your home town, click on the weather control icons to personalize the weather for your home town, it is easy, there are detailed instructions. To see the changes please hit enter close the settings window and refresh the skin.
-The Music player skin needs the support of one popular player, (like AIMP, iTunes, J.River Media, MediaMonkey, MusicBee, Foobar2000, WinAmp, Windows Media Player and Spotify). Start your player and all the info of the music you hear will appear on this skin, Artist, Song Name and Cover Art. The music controls of this player are Pause-Start, Next and Previous .
* Notes:
If you use Foobar2000 you need to download and install foo cad plugin:
https://poiru.github.io/foo-cad/
If you use MusicBee you must enable "CD Art Display" plugin in (MusicBee>Edit>Preferences>Plugins).
It supports Spotify , but only for the desktop version, not with web player!
- You can always rearrange the place of the skins on your desktop, enable or disable any of them or use a different wallpaper, according to your personal taste.
Stay tuned, more suites and skins will follow.
You can download all of them from DeviantArt:
https://www.deviantart.com/adni18/gallery/all
or my personal site, (among many other skins):
https://www.adni18.com/RAINMETER/