Hello everyone,
i started this weatherskin as part of my first Conky skin back in 2013. In 2016 i adapted it to Rainmeter and made version 1.0 public.
One week ago i updated the skin to work with The Weather Channel again, after there feed wxdata is no longer available. I also added new functions like hourly forecast, and fixed the auto location feature.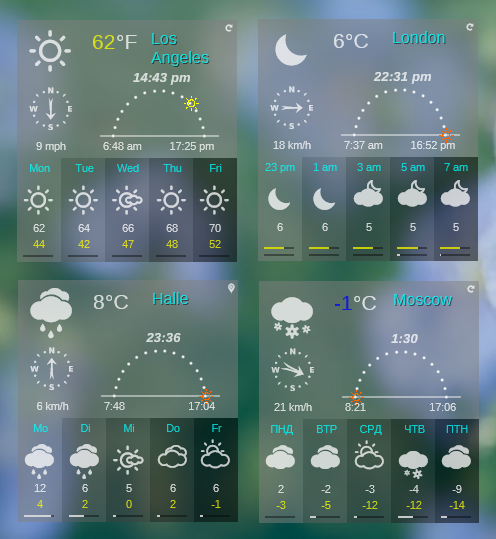 or
https://www.deviantart.com/quakeguy44/art/Weatherbox-617208855
- shows suntrail
- shows wind direction/intensity
- 5 day forecast with rain probability
- hourly forecast with humidity and rain probability
- colorized temperature (from blue to red)
- using metric or imperial units (C, km/h or F, mph)
- shows 24 hours or 12 hours (AM/PM)
- choose language for weekdays (English, German, French, Italian, Spanish, Russian, Chinese)
- can detect location by ip-address (uses city, country code and region code in the US)
- touch friendly by changing most settings with left mouseclick
Feel free to try it and comment.