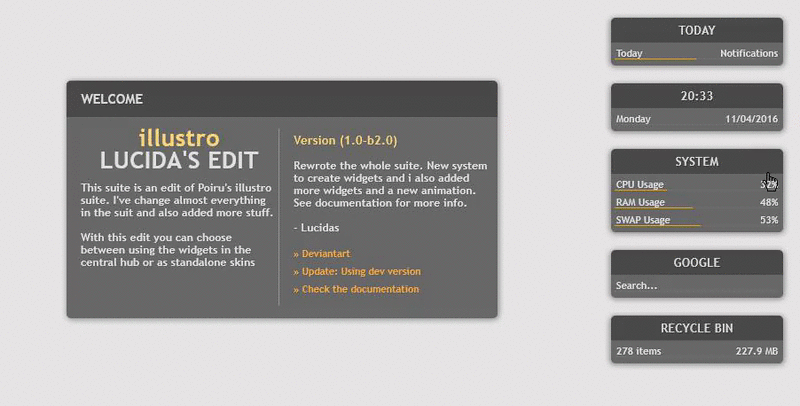 Welcome to Illustro Lucida's Edit!
Illustro is the first Rainmeter suite that the user will get. It's a good suite.
And i wanted to expand the suite. My main goal in the beginning was to create
a hub or a notification center where the user could get some usefull information
in a robust and discrete way. I made this for myself but as i did more and more
work to it i started to really fall in love to the style that Illustro has. My new goal is to
keep on adding to this project, to add new features and new widgets. My first
thought was to merge my skins into the Illustro folder but right now i have
modified about 70% of the code. So instead of merging it I made an edit, Lucidas edit.
This means that Illustro Lucida's Edit will be used in its own folder and will not
damage the Illustro folder. I Also want to credit the original author:
Poiru
What you will get in Illustro Lucida's Edit
You will get a notification center which will act like a hub for your ordinary widgets
but also for your new notification widgets. I will add more and more features and widgets
in every update, to see everything that has been added so far see the documentation.
Some words from me
Scroll on Today/Notification background on the Notification Center skin to switch between
today and notifications. Skins can be used in the Notification center or as standalone widgets.
Look at the skin, send me feedback on what you would want changed,
removed, added to this suite. Thanks. - Lucidas
Widgets added
Documentation
Latest Update: 1.0-b2.0 - 11/04/2016
Rewrote the whole suite to be more easy to use. This is just building up for future plans and now i have
added all the Illustro widgets. The next big update will have some new widgets made by me and a lot of other
things.
Download Latest Update: 11/04/2016