Revelation2 Includes:
Launcher Bar - Various buttons for launching commands and shortcuts to folders and applications. Functions like Power down, Lock computer, Configuration options, Desktop Panel, Control Panel, Task Manager and more. Search google from your desktop in the provided search box. Launcher Bar is tabbed, to Hide almost completely when not in use and open up as needed.
Header skin - Various buttons for launching pop-out skins, including Notes, Music Player, Weather, System, RSS, Gmail, Facebook, Slideshow and Clock. Header bar docks right under Launcher bar. Toggle feature to remove it to a tab on the desktop, just like the Launcher Bar.
That's about it... all the functioning skins are built into two actual files, and use hides/shows to switch them out. The code itself should be easy to read... I habitually keep code as organized as possible, so it might be a good suite for beginners to research and parse.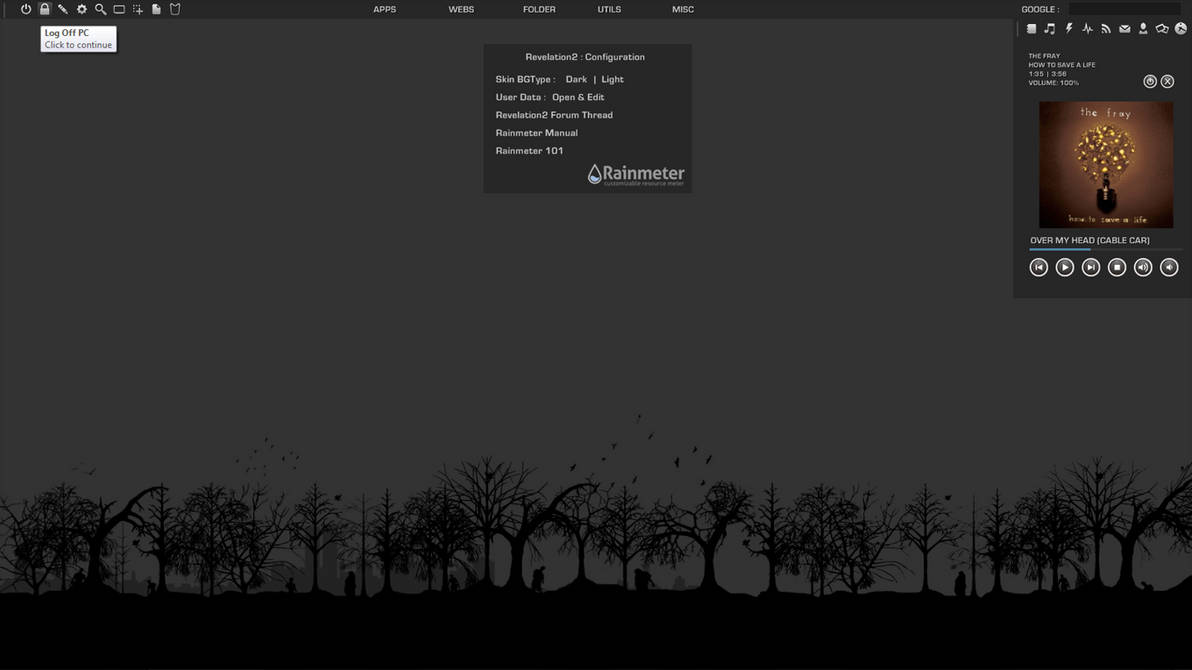 Overall, it's a very minimalistic design, and disappears to nothing with a mouse click.
*Please note - Best suited for large displays and Windows 7 X64. Rainmeter 2.2 or higher suggested.*
Download Here
(DeviantArt) or
Here
(DropBox)
Cheers,
//JoBu