There have been many bug fixes, code optimizations, and a few more features. Full change log included with skin.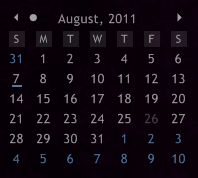 A simple calendar powered by Lua with many customizable options.
Options and Features include:
Start the week on Monday.
Use localized month names.
Show holidays and events.
Move through the months.
And many more!
DA Site Download