Is there a way to get around the file protection in "C:\Program Files\Rainmeter\Rainmeter.exe" that prevents Rainmeter from opening?
When I click the Honeycomb tile, a MS Store window opens with a message stating that I need a new app to open this program.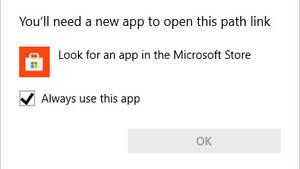 I know that the Program Files folder is one of those protected folders, but I have no idea whether there is a workaround for this. I am confused because the path on the rainmeter shorcut is exactly the same path, and that works. But when the path is in the rainmeter.ini file, something is preventing it from opening Rainmeter.
I am pasting the Rainmeter.ini file contents below:
Code: Select all
[rainm]
Meter=Image
ImageName=#@#Images\rainmeter.png
H=90
LeftMouseUpAction=["Path: C:\Program Files\Rainmeter\Rainmeter.exe"]

[Rainmeter]
Update=1000

[Metadata]
Name=rainmeter
Author=APIUM
Information=
License=
Version=