I am having a strange issue with one of my Rainmeter skins. When I first start my computer or refresh the skin the skin renders correctly and it looks like...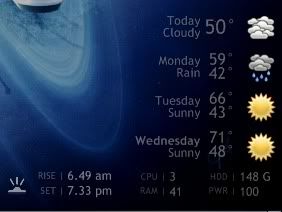 But I notice that after a while clusters of pixels in the skin disappear or become translucent so I can see through to my desktop background. Then my skin then looks like this...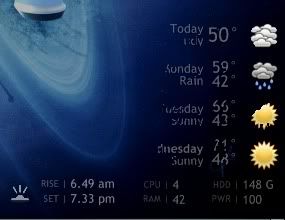 (look at the sun on the right, the days of the week, and the description text of the weather skin)
The issue only occurs on this weather skin. All of my other skins stay rendered correctly. If I refresh the skin it renders correctly, but then it gradually degrades over time.
Does anyone know how I could adjust the skin, rainmeter, or my computer graphics so I don't have to refresh this one skin every hour? Alternatively, is there a way that I can have a particular skin refresh itself every 15 minutes?
Thank you for your help and advice!
PS: I am using Raimeter 1.1 (but my RainBrowser still says 1.00??), I have Windows 7 Ultimate 64bit, the graphics processor is Intel64 Family 6 Model 23 Stepping 10 GenuineIntel, I am only using one monitor on a notebook computer, I use AVG free antivirus, and I have installed Rainmeter in its default location.