I know what you're thinking, there have been a bunch of "specialized" clocks lately, why do we need another? Answer: because the purpose of Rainmeter is to put as many time-telling devices on your desktop at once. And so, I give you the Polar Clock.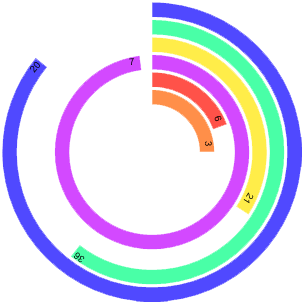 The polar clock is actually a "port" of
a screensaver
I've always been fascinated with. Sometimes I just leave it running and let the hypnotic twirl of the seconds lull me to sleep. But I digress. Each ring on the clock represents a different component of the time. From the outside-in, they are the hour, minute, second, day of the week, day of the month and finally the month on the innermost circle. You can also right-click the clock in order to show or hide the numbers.
The clock was mostly just a sort of "see-if-I-can-do-it project", but if you guys like it then you are welcome to use it:
UPDATE:
The clock has been modified to add colour cycling, optional greyscale and an improvement on the method used to smooth out the seconds.
Download:
polarclock.zip