Hello everybody,
Is something known about the Rainmeter (from version 4.2) is no longer with skins, the CPU data (clock, individual cores utilization) and drives (free space, read and write access) queries.
Have since tonight suddenly just with this kind of skin problems. If these are also downloaded during the Rainmeter start, or if the folders with the mentioned skins are only (inactive) in the Skin folder, Rainmeter smears me off.
Have already updated to the 4.3 beta, but the problem remains. Even a complete uninstall of Rainmeter and reinstall did not fix the problem.
Must now always completely remove the CPU and drive skins. Only then does Rainmeter run.
This morning, everything was fine with exactly these skins.
My system:
Rainmeter 4.3 Beta (64Bit)
Windows 7 (64 bit)
16GB Ram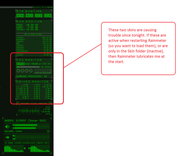 PS .: sorry for my bad english (text translated to english by google translator)