Rainmeter Helper
version 1.2.0.0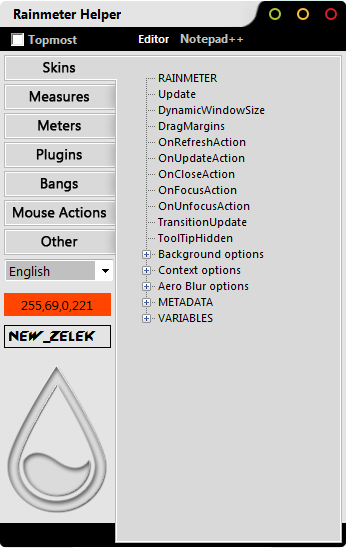 This application is designed to help you write skin's code for the Rainmeter. As an idea was used
RainSend
application, originally written by
jsmorley
, and altered to fit my needs.
The application contains a database with blanks codes, which by selection will be inserted in text editor.
The choice of color and its insert in a text editor is possible.
The choice from the fonts established in system and an insert in a text editor is possible.
Descriptions of parameters and bangs of Rainmetr are added (while only in English)
Language: Russian and English. (Probably independent additions of other languages)
Codes in the database for
Rainmeter 2.5 Beta
(5 Mar 2013)
Tested only on Windows 7
The following editors are supported:
As in archive there is a small program for database editing DBEditor.exe
Screen:
Credits:
RapidShare
If there are problems or it is necessary to add any editor, address.
Request to administrators or moderators.
As badly I know English, the majority of the description was translated through an online translator, I ask to correct the description, grammatical and stylistic errors.